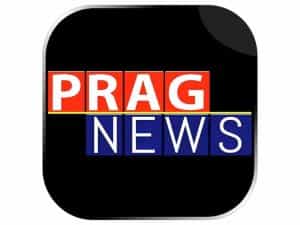 Prag is a channel broadcast from India. You can watch Prag online free through our website every time and everywhere.
Prag is a channel broadcast online free from India TV channels
Get breaking India and world news or catch up with the latest stories, clips, and programs from your favorite shows. The "Prag" brings you breaking news coverage and live streaming from Prag live will help you stay up to date on the events shaping on around the world.
A forerunner of local news channel in Northeast India launched on 4th March 2001, under the aegis of A M Television, Prag News is the best media platform in the North East, providing news and media products with integrity, impartiality, and speed as its hallmark. Catering to the entire mass with its speedy news as well as tools of media entertainment, Prag News has created a niche for itself in the language media.
Prag News is the oldest local news channel of Assam and the rest of the North-Eastern region of India owned by A M Television Pvt. Ltd, based in Guwahati, covering local, national, and international news and various other programs.
Its key persons, veteran journalist, Editor-in-Chief Ajit Kumar Bhuyan, Managing Editor Pranay Bordoloi, and executive editor Diganta Oza have taken the news channel to a new pedestal since its launch, making Prag News the best media platform in the entire North East.
Prag News offers the most cost-effective and impactful solutions to tap the entire Indian Market besides, Assam & North East markets. Prag is being distributed across all over India via cable &DTH.
A product of A M Television Pvt Ltd, Prag News has come a long way since it launching and is conquering the media world like a giant and is presently slated at the 2nd position in terms of TRP (television rating point).
Sanjive Narain, Chief Managing Director, Prag News, saw a dream of imparting fair and impartial news to the mass and hence Prag News was born.
Prag News has come a long way since its launch and has ascertained its name as one of the most prestigious and respected media houses not only in Assam but in the entire North East. It has won many accolades and has many awards to its credit.
Prag News is currently available across Assam which enjoys a viewership of more than 12 million+. Apart from being the best and the oldest local news channel in the entire North East, it has always been awarded the Best MASS COMMUNICATION AWARD in the year 2003 & 2004. Prag News has also been awarded by the Newspaper Association of India for Best Regional Channel for its contribution to the North East in 2011. It is also the recipient of the prestigious NEBCUS Media Award 2011 & 2012.